The Worlds Most Dangerous Man
Ken Shamrock is one of the most widely recognized MMA fighters in the world. He is a legendary American Mixed Martial Arts fighter & former professional wrestler. 
Ken Shamrock is best known for his participation in the Ultimate Fighting Championships, Pride Fighting Championships, the World Wrestling Federation, Total Nonstop Wrestling Action and Pancrase. 
Elected UFC Hall Of Fame – 2003
Four Time UFC
Heavyweight Champion
First UFC Superfight
Heavyweight Champion
First Pancrase Heavyweight
World Champion
WWF Intercontinental Champion
WWF World Tag Team Champion
Four Time Tough Man Champion
TNA World Heavyweight Champion
King of the Ring Champion
Pride Superfight
Heavyweight Champion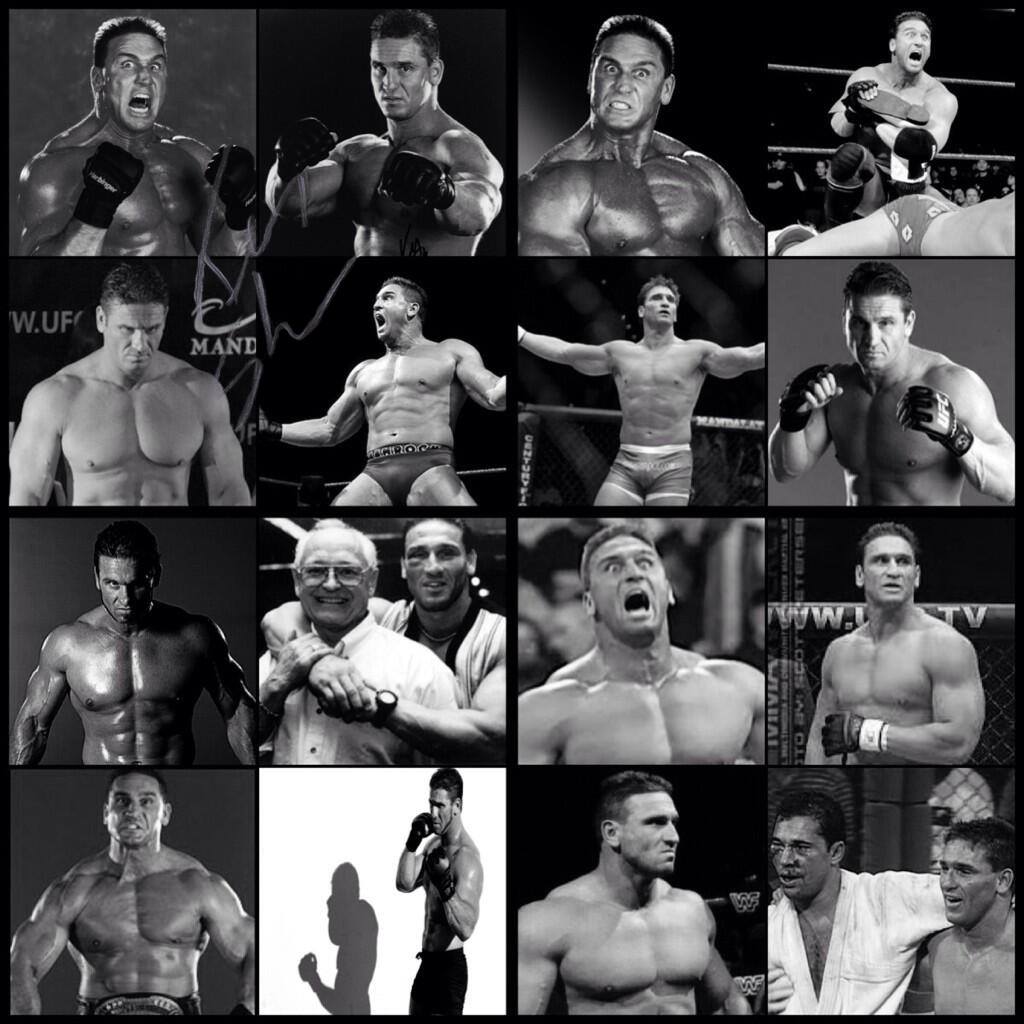 No other fighter possesses the credentials that has rightfully earned him the title of "The World's Most Dangerous Man".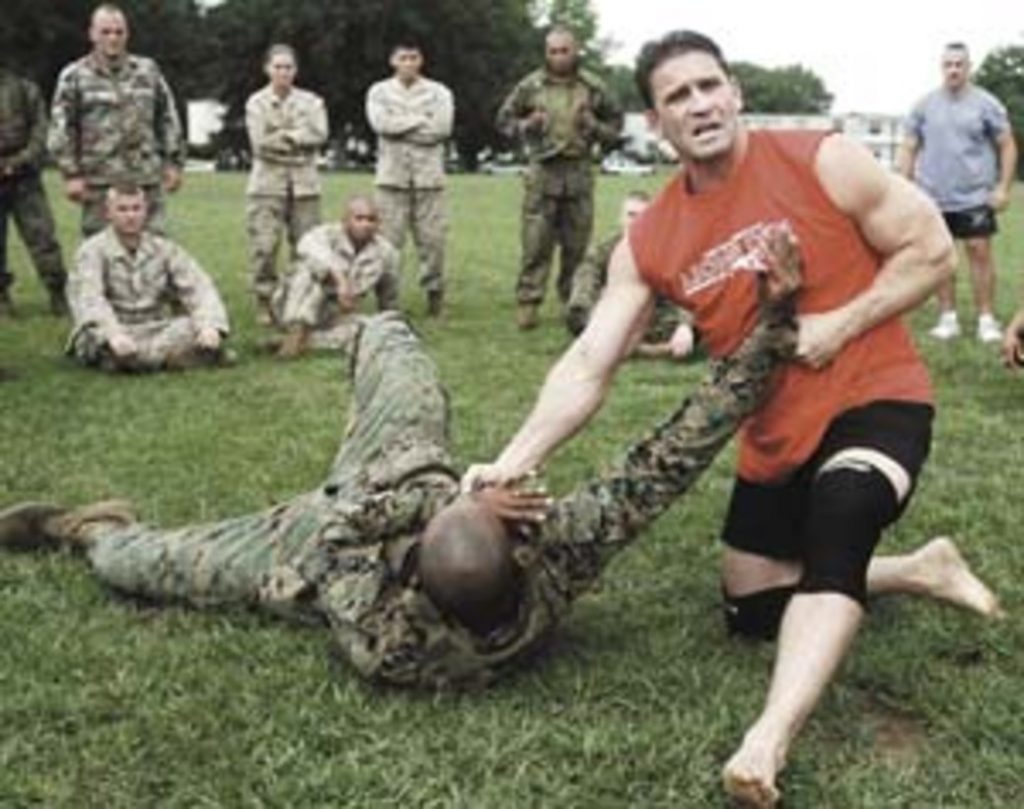 As one of very few trainers allowed to teach US Military troops self defense, Ken Shamrock currently serves as a subject matter expert in the Marine Corps Martial Arts Program (MCMAP) and is regularly asked to train Army troops as well. 
The Army has recognized Ken for his efforts in preparing the troops for combat. Always, Ken respects and honors the sacrifice our wounded warriors and their families have made, and he tries to meet with the wounded whenever possible during his travels.
Ken Shamrock founded the Lion's Den, a group dedicated to the training of mixed martial arts fighters. Many Lion's Den fighters have achieved success in mixed martial arts. Others have become legends in their own right. Ken was also given the opportunity to coach the Nevada Lion's thru the International Fight League.
Complete Biography as Submitted by Erich Krauss, Author of Brawl
When thirteen-year-old Kenneth Kilpatrick first came to Bob Shamrock's group home in sunny Susanville, California, his future did not look bright. He had grown up fatherless in a poor neighborhood in Georgia, where he learned life's lessons on the streets. While his mother worked to put food on the table, he had cruised the neighborhood with his brothers, causing trouble wherever they could.
The first time Ken ran away from home, he was only ten. He found refuge in an abandoned car with fellow delinquents, but wound up in the hospital after getting stabbed by another child who was also on the run. In the years that followed, he would be ousted from seven group homes and serve time in Juvenile Hall. Although the strong-willed youth only weighed 125 pounds, he had his own way of looking at the world, and he was always ready to protect his pride with his fists.
Showing no signs of rehabilitation, the State grew weary of him. He was given one last chance to turn his life around: he would go to a group home—the Shamrock Ranch—run by Bob Shamrock, a man renowned for working with misguided youths. While Ken had a history of conflict with those in charge of group homes, he fit in quite well at Shamrock's.
Bob had raised more than six hundred boys in his home, and his methods were both unique and effective. In response to the feuds that often arose with prideful boys sleeping under the same roof, he offered them an unorthodox method of resolution. If both parties were willing, he allowed them to throw on boxing gloves and duke it out in the backyard.
It did not take long before Ken was the house champion in both boxing and wrestling. Outside of these in-house matches, he also earned a reputation around town as 'One Punch Shamrock.' "He'd get into a fight and just knock the guy out," recalled Bob. "He hit them once and they were down. He never picked fights, but he never backed away from them."
Recognizing the boy had tremendous athletic ability, Bob redirected Ken's anger into sports. He got him on a weight-lifting program and enrolled him in wrestling and football. Over the years, Bob and Ken went through a lot together. At one point, the State had sent Ken back to his mother, who was now living in Napa, California. But having found a home at the Shamrock Ranch, Ken returned on his own accord. Bob accepted the boy back with open arms, even though Ken was no longer being supported by the State. Along with becoming a leader for the other boys, Ken also became the son Bob Shamrock never had. Shortly after Ken turned eighteen, Bob legally adopted him.
At nineteen, Ken Shamrock entered his first Toughman competition in Redding, California. He only weighed in at 195 pounds, but due to a shortage of fighters, he was bumped up to the heavyweight division. Although the first competitor he faced outweighed him by sixty pounds, it didn't stop Ken from knocking him out with a devastating body shot. The second brawler he took on weighed 245 pounds. Ken proceeded to knock him out as well, along with several of the man's teeth. The competitor who was supposed to fight Ken in the finals wanted no part of "One Punch Shamrock," and claimed an injury so he wouldn't wind up like the others.
It was evident that Ken had a natural ability for brawling, and this ability was exercised both in and outside of the ring. His reputation as a fighting machine grew as he worked as a bouncer in various nightclubs. But eventually Ken realized working the nightclub scene was a dead end. "I was just kind of floating around," said Ken, "bouncing in bars here and there." He began searching for other opportunities, and one day his father suggested that he go into professional wrestling. Bob was a huge fan, but at first Ken was not interested, thinking it stupid and fake. However, after Ken realized just how much money a pro wrester could make, he started taking to the idea.
Bob organized a tryout with Buzz Sawyer Wrestling Academy in Sacramento, and Ken passed with flying colors. He enrolled in the classes, and because of his wrestling background and natural athletic ability he quickly excelled. Realizing his son had potential in the sport, Bob located a more prestigious wrestling school on the other side of the country. "I went down to Nelson Royal and Gene Anderson in Mooresville, North Carolina," said Ken. "I went through their tryout, and they saw some potential in me." Ken completed their program in four months, while it usually took a student two years to finish. Both Ken and Bob made the move to North Carolina, where Ken exploded onto the scene.
The wrestling wasn't paying that much, however, and to make ends meet, Ken held odd jobs and even engaged in back alley scraps for money. In one such event, Shamrock fought in a parking lot behind a bar surrounded by a ring of drunks. Ken ended the fight with just one punch and a suplex. Without even breaking a sweat, he walked away with $350 in his pocket. But this was not enough to satisfy his pugilistic tendencies, and he began searching for another outlet.
An opportunity soon presented itself. "Dean Malenko had come up and did some tag-team with me, and then we did some baby-face matches against each other," said Ken. "He showed me this tape that they were doing over in Japan, the UWF (Universal Wrestling Federation). I said, 'Damn, I want to do that!' He introduced me to Sammy Saranaka from Florida, and I went down and met with him. I went through a series of tests." After passing a brutal tryout in Florida, Ken was on a plane heading for Japan.
He made it through yet another grueling set of tryouts in the dojo of the UWF just outside of Tokyo, but not without being humbled by submission masters Suzuki and Funaki. "I've always been able to pretty much handle myself in any situation," said Ken. "But when I went to Japan the technique there was so much better that I was getting heal-hooked, arm barred, and choked. I was like, 'Oh my God, this stuff is great.'"
Realizing his one "great punch" would not cut it at this level of competition, he lived in Japan, studying under the greats and learning countless ways to submit an opponent. Having found what he had been searching for, he quickly acquired the tools that made him a complete and feared competitor.
Ken spent a year competing in the UWF, and although most of the matches were worked, it was a cut above what he had experienced while wrestling in the States. But when the UWF began having problems, Ken began looking for an even more realistic medium where he could test his skills and unleash his power in full-out combat. "There were a lot of internal problems with the UWF," said Ken. "The company broke down and split up, and the fighters went to three different companies. There was Takada, there was Maeda, and there was Fujiwara. Of course I slid off into Fujiwara, because Fujiwara and Sammy Saranaka were friends—and Sammy was the one who got me into it. Then after that, it kind of broke apart with Funaki and Suzuki and all them. I had started training with Funaki, and spent a lot of time with Funaki learning. And so when they broke off, Funaki had asked me to go with him because they were going to start a new group called Pancrase. It was going to be a little more intense. I said, 'Well okay, that sounds more like me." Ken went on to beat both Suzuki and Funaki, his teachers. And on December 19, 1994, he defeated Japanese competitor Manabu Yamada in front of 11,500 enthusiastic fans to be crowned the first King of Pancrase.
Ken became a superstar in Japan. His image was depicted in comic books and graced the cover of magazines, and tens of thousands of spectators turned out monthly to watch him dominate his opponents.
Knowing he had a future in the sport, Ken returned to the U.S. and opened the now world-renowned Lion's Den training facility in Lodi, California. His reasons for opening it up were twofold. First, it would be an official training facility for American Pancrase fighters before going to Japan. The second reason was so Ken had partners to train with in the States. Pancrase embodied modern MMA competition, and at the time there weren't many potential training partners. Ken had to start them from the ground up, and over the years he would produce some of the most successful MMA competitors the sport has ever seen.
Then, in September of 1993, Shamrock came across an advertisement in Black Belt magazine searching for experts in the martial arts to compete in an event called the Ultimate Fighting Championship—a bare-knuckle event where there were no rules.
Both Bob and Ken were confident that he could win the tournament easily because of his fighting ability and his knowledge of submission. When Ken was younger, he'd competed in several karate competitions that were supposedly full contact. In one such tourney in Reno, Ken kicked his opponent in the stomach, knocked the wind out of him, and then got disqualified because his kick was considered too full contact. In another event in Redding, he knocked a competitor out by punching him in the head. This was also considered too full contact, and again Ken was disqualified.
From this, Bob and Ken got the idea that these guys running around in pajamas were not all that tough, not realizing what jiu-jitsu fighters, like Royce Gracies, could do. Even while in Japan, Ken never got to see the Jiu-jitsu practitioners in action. He figured that with his skills he would run right through the other UFC competitors just as he had in his barroom brawls and Toughman competitions.
Although Bob was certain the event would take place, Ken had his doubts. "I thought it was just going to be another one of those deals that when you get there they go, 'Okay, this is how it works; this guy is going to win.' The only thing I've ever been a part of that involved any No Holds Barred, or anything like that where there were bare knuckles, the outcome was already pretty much predetermined. There were always stipulations—there was always something. So when I got accepted into it, I was still fighting over in Pancrase. I had a fight three days before the fight over in Denver, and I wasn't going to cancel that fight because I wasn't sure or not if this one was going to be the real deal." The first UFC, however, was bigger than anyone expected, especially Ken. When father and son arrived in Denver, everything was in place.
In his first bout of the night, Shamrock took on Patrick Smith, a kickboxer who had ridiculously boasted that he was immune to pain. In the opening seconds, Smith came forward and threw a kick to the leg. Shamrock shot in for a double-leg takedown, put the striker on the canvas, and then seized Smith's right leg and dropped back, applying a heel hook. In seconds, the kickboxer was in agony, and he pounded his hand in submission.
The bout had gone pretty much as Shamrock had anticipated. After a brief rest backstage, he climbed back into the Octagon to take on Royce Gracie, the only wildcard in the event. Shamrock had never before grappled with a competitor who studied Brazilian Jiu-Jitsu and wore a gi, but after manhandling some of the best grapplers in the world over in Japan, he felt confident that there was nothing Gracie could do to hurt him. Shamrock understood positioning, and he could spot a submission hold coming from a mile away.
A little over minute into their bout, Shamrock had his opponent right where he wanted him—laying on his back in the middle of the Octagon. Feeling the time was right, he seized Gracie's right leg and dropped back to once again apply a heel hook. But immediately he knew something wasn't right. "He had wrapped his gi around my arm, so when I sat back, it basically pulled him up on top of me," said Shamrock. "Then I couldn't get my arm out of the gi to apply the heel hook. So I tried to turn on my side, and when I did, he wrapped his gi and his hand around my throat. I didn't feel there was any danger there because his other hand was tied up with mine. Then all of a sudden I felt this gi tighten around my neck. I was like, 'What the hell is that?'" Gasping for air, Shamrock realized that it was only a matter of seconds before he passed out, and he tapped in submission.
Shamrock handled his post-fight interview with class, but inwardly he craved revenge. "I don't like losing, and for me to lose on national TV was a hard thing to accept," said Shamrock. "Coming from the streets, I wasn't afraid of anything. I very rarely lost a fight, and when I did, I always came back and won. I always found a way to win. I needed to face him again for myself, and to prove to all those people who watched the first event that I wasn't a quitter. I was used to fighting bare back, so I just needed to learn how to defend against someone wearing a gi. I wouldn't make the same mistakes twice."
Although Shamrock felt ready to take on Gracie only a few months after his loss, he would have to wait almost a year and a half for his redemption. While training for UFC 2, he blocked a high kick while sparring with a teammate and broke his hand. He still wanted to compete, but when doctors told him that he might never fight again if he injured his hand any further, he reluctantly withdrew from the show. Shamrock watched from the sidelines as Gracie took home the title belt yet again, and it fueled his rage. He entered UFC 3 prepared to give the Brazilian the fight of his life. Gracie, however, was on the opposite side of the quarterfinal bracket, which meant that they both had to win their first two fights in order to meet each other in the finals. To achieve this, Shamrock defeated Christophe Leininger in his quarterfinal bout by trapping him up against the fence and raining down punches. Then, in the semifinals, he finished kickboxer Felix Lee Mitchell with a rear naked choke.
Knowing his revenge was near, Shamrock waited backstage, preparing himself mentally for the most important fight of his life. But just as he was beginning his warm up routine, he received some devastating news. Gracie had thrown in the towel shortly after he stepped into the Octagon for his semifinal bout. Apparently, his struggle to defeat powerful street brawler Kimo Leopoldo in his first match of the night had taken its toll, and he could not continue.
With Gracie out of the event, Shamrock was almost guaranteed a victory. All he had to do was step into the Octagon and defeat karate practitioner Harold Howard. But when organizers of the show called Shamrock's name, he told them that he wasn't coming out. He didn't care about the title belt or the prize money—he cared about beating Gracie. Having been robbed of his rematch yet again, he saw no reason to continue.
The fans of the sport were growing anxious to see the two warriors square off. To ensure everyone got what they wanted, promoters decided to create the first ever Superfight in UFC 5. Instead of being a part of the tournament, Shamrock and Gracie would fight each other in a headlining bout.
The showdown was advertised in various forms of media around the world, and on the night of April 7, 1995, Independence Arena in Charlotte, North Carolina was packed to the brim with fight fans. "I didn't want to go out there and just beat Royce," said Shamrock. "I wanted to shut down his whole bragging system, which was, 'We're in better condition, our skills are better, and we can beat anybody, anywhere, anytime.' My whole strategy going in was to wear him out, make him dog-assed tired to where he could hardly stand. I was going to beat him—beat on his ribs, slowly break him down, and then treat him like a baby. I really wanted to embarrass the guy."
Shamrock's game plan worked well. He took Gracie to the ground, obtained the top position, and then pounded on his opponent's ribs and face for thirty minutes straight. Despite the abuse Gracie absorbed, he refused to tap in submission. This became a problem, because at the time there were no judges, no way to determine a winner if one competitor didn't give. The fight had been scheduled for thirty minutes, but not wanting it to end in a draw, organizers of the show gave the warriors five extra minutes to see if one of them could pull out a victory. When neither fighter changed his strategy going into the overtime, the referee made a judgment call and stood them up.
Shamrock used the opportunity to land two powerful punches to Gracie's face. "The reason why I was able to rock him was because I was wearing him down," said Shamrock. "I tried the same punch right in the beginning of the fight, but it didn't land. First time I missed it, but the second time he was worn out, a little bit slower, and I hit it." After landing his shots, Shamrock brought the fight back to the canvas. He began delivering head buts and strikes, swelling up Gracie's already battered face. But Gracie weathered the abuse like a true champion, and the two combatants were eventually separated without a victor being declared.
Although Shamrock hadn't knocked Gracie out like he had wanted, it was obvious to all those watching who had dominated from start to finish. Having done something no competitor had done before—go the distance with the jiu-jitsu master from Brazil—Shamrock continued to rise in popularity. He fought in one Superfight after the next, defeating amateur wrestler Dan Severn with a guillotine choke in UFC 6, and then asserting his dominance over Oleg Taktarov in UFC 7.
As Shamrock's victories piled up, young athletes flooded to Lodi, California in hopes of gaining entrance into his training facility, the Lion's Den. Thousands of fighters wanted to know his secrets to success, but Shamrock didn't accept just anyone. Not wanting to waste his time training guys who thought a crescent kick could be used in a real fight, he searched for those who were well-conditioned athletes rather than experienced martial artists. To weed out the weak before they stepped foot into his gym, he created a tryout that consisted of eight hours of physical and mental abuse. It involved pushups, sit-ups, miles of running, and a grueling sparring session where Shamrock wrenched on their joints. "The test was not made for you to pass," said Shamrock. "It was made for you to want to quit. So by making you want to quit, it shows me the intensity or the will that you have to succeed."
Despite the high failure rate, over the course of many months, Shamrock managed to round up a small group of young men who had the heart, desire, and physically ability to learn what he had to teach them. Once they had made the team, Shamrock shaved their heads, moved them into his fighters' house, and then began the slow process of building them up from scratch. In exchange for his generosity, his students dedicated all their time and effort to training. They learned how to submit an opponent with arm bars, leg locks, heel hooks, and chokes. They learned how to punch, kick, and tie an opponent up in the clinch. Spending as many as six hours a day drilling techniques over and over, it did not take long before they could offer Shamrock the kind of resistance that he needed to stay in shape. "I was very hands on with them," said Shamrock. "I controlled the amount of time they put into training. I monitored the times they ate, and the times they could go out. It was a real regimented deal, and it worked very well."
Shamrock didn't keep his fighters in the nest for long. Once he felt a student was ready to compete, he sent him over to Japan to get experience fighting in Pancrase. And those who managed to rack up a number of victories over top competitors overseas soon followed Shamrock's lead into the UFC. This included Guy Mezger, Pete Williams, Jerry Bohlander, Mikey Burnett, and Frank Shamrock. Just like their instructor, they tore through the competition in the Octagon, making the Lion's Den the most respected and feared MMA fighting team in the world.
Shamrock became a leader in the sport of MMA. In the Octagon, he displayed sportsmanship and courage. Outside the ring, he frequently traveled the country to appear on talk shows, trying to convince the general public that the UFC was not a barbaric sport. But despite all his efforts to shed a positive light on MMA competition and its competitors, the UFC continued to attract negative attention. "The UFC was having a hard time," said Shamrock. "Every place we went, we were getting banned. At one event, we had to pack everything up the night before the show, charter two planes, and fly to another state just so we could make it happen."
Shamrock hoped that time would help solve the sport's problems. He continued to compete, but when he entered UFC 9 to defend his Superfight belt against Dan Severn for the second time, he was forced to make a moral decision that put a black mark on his nearly flawless record. "The show was held in Detroit, Michigan, and the night before the event the courts made it illegal for competitors to punch," said Shamrock. "Prior to that, there was a different show over in Canada that had the same thing happen to them. Competitors started punching, and they all got arrested after the show. The promoters told me not to worry about it, to go ahead and punch, and that they would fine me at a later date. I remember thinking about it, wondering what to do. I thought about all Juvenile Halls I had visited along the way, promoting the fact that they could do anything in life so long as they followed the rules and stayed within the guidelines. Growing up in group homes, I had learned that your team suffers when you foul, and your family suffers when you break the law. I had learned that the hard way, and I wasn't about to do that same thing again. I was being told that it was OK to break the rules, but it was totally against everything that I had promoted the UFC and myself to be about. And so, I chose not to punch. Because I chose not to punch, I lost the fight. Severn won because he landed more punches.".
The sport continued its downward spiral, and fighter's purses began to dwindle at every show. Shamrock had a family to support, along with a house full of fighters. So when the UFC showed no sign of making a dramatic comeback anytime soon, he decided to use the popularity he'd garnered in MMA competition to move over to the ranks of professional wrestling.
On February 24, 1997, Shamrock made his first appearance for the WWF, and over the next couple of years he would become one of the most feared and popular professional wrestlers in the world. He became Inter Continental Champion, Tag Team Champion, King of the Ring Champion, and Rookie of the year. In addition to his weekly television appearances, Shamrock also began pursuing a film career, staring in movies such as Champions and Scarecrow Gone Wild.
Just when the fight world thought they had seen the last of Shamrock in the Octagon, he decided to make a comeback in the UFC. "I was tired of running around all the time on the road with the WWF," said Shamrock. "I wanted to spend more time at home with my family and kids. I also wanted to get back into fighting because I realized I was running out of time to do that."
To get the training that he needed, Shamrock placed himself in the hands of his former students, and they brought him up to speed on all the techniques that they had learned in his absence. Within months, Shamrock felt ready to take on the world, and he signed a contract with the UFC to fight Tito Ortiz, the current light heavyweight champion.
Shamrock had agreed to the match for two reasons. First, he wanted the light heavyweight championship belt. But more importantly, he felt he had a score to settle with the Huntington Beach Bad Boy. Back in 1998, Ortiz had defeated Lion's Den fighter Guy Metzter. Instead of shacking Mezger's hand after the bout, Ortiz had showed signs of disrespect. Time did little to ease the animosity.
Shamrock felt confident there was nothing that could stop him from defeating Tito Ortiz, but then he tore ligaments in his knee during practice. "I figured I could overcome it, get in there and win the fight," said Shamrock. "I really thought I could beat Tito Ortiz with one leg. Training was hard, because I couldn't run. I was forced to cut back on my training because my knee swelled up. I should have just called it a day so I could come back another time, but I was just too hard headed. I had always been able to overcome any injury, and I thought I would be able to do it again." Shamrock trained when he could, and despite constant pain, he made the trip to Las Vegas to see how his skills fared against the new and improved Tito Ortiz.
It was the most anticipated match the UFC had experienced in its nine year history, and as the two warriors took their positions inside the Octagon, millions of fans around the world found themselves wondering what the outcome would be. Would the legend of the past be able to pull out the victory, or would the champion of the present run through this competitor just like he had all the rest?.
The capacity crowd was on its feet as the fight got underway. Shamrock came forward with confidence, but he soon realized that his injury was not something he should have taken so lightly. He didn't have the mobility that he needed to pivot, shoot, or even struggle for position on the ground, and this allowed Ortiz to get the upper hand.
Despite losing the fight, Shamrock had no plans of leaving the sport anytime soon. He had surgery on his knee, and once he recovered, he began training like he had in the past. "MMA competition has put me in a situation where I can walk through life being proud of who I am and what I have accomplished," said Shamrock. "Without it, I don't know what I would have done. I fell in love with it the first time I stepped into the ring, and I have never looked back. We all went through a hard time when politics got involved and the sport was banned, but because we loved what we did, loved where it was going, we stuck with it."
Millions of fans world wide have not forgotten all Shamrock has contributed to the sport of MMA over the years, and in addition to being inducted to the UFC Hall of Fame in 2003, he has also been nominated to join San Diego County's Hall of Fame. Whether it be choking competitors out in the Octagon, slamming his victims in the rings of professional wrestling, or entertaining the masses in mainstream movies and books, Shamrock has always embodied the essence of what it means to be a warrior on all fronts.